Dome Lens Unit II for UWL-H100
[Discontinued]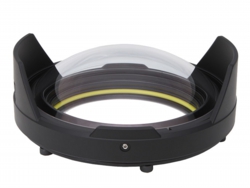 Dedicated super dome option for UWL-H100 series wide conversion lens to increase underwater view angle by simply attached it on the compatible wide conversion lens to provide "more wide angle image" and "more close-up image" comparing to sole use of the UWL-H100 series underwater.
*The "Dome Lens Unit" patented in the U.S.

Maximum angle of view underwater is [144.8°] with "UWL-H100 28LD" or "UWL-H100 28M67 Type1/Type2" wide conversion lens .

Unique optical design allows to shorten minimum focal distance with super wide view angle thus effective for ultra wide macro imaging and capturing clear image even in poor visibility condition.

The Dome Lens Unit II is made of optical glass with inner anti-reflection multi-coating to minimize flare and ghost in backlit condition.

The packaged protector is molded resin with detachable structure to enhance handy hood position adjustment and lighten total weight as well.

*Dedicated "Dome Spacer for UWL-H100" comes with the Dome Lens Unit II for UWL-H100 as standard package.
[Usage of the Dome Lens Unit]

*This product cannot be used by itself and must be used with compatible INON wide conversion lens.

*Set the camera zoom position to 28mm (35mm film equivalent). If you observe vignetting, crop the image when editing or zoom forward just enough to eliminate the vignetting. The Dome Lens Unit II is designed to obtain best image quality and results when the zoom is set at this setting.

*Generally, set Macro Mode to [ON]. However, for some cameras, depending on the particular focus range and aperture capabilities, some subjects at farther distances may not be in focus. In such cases, set Macro Mode to [OFF].