Highly accurate S-TTL may not work properly as you intend depending on camera or shooting condition.
In such case, External Auto mode of the Z-240 and D-2000 realizes your intension.
Situation where S-TTL Auto is not able to provide correct exposure
The debut of the S-TTL Auto benefits everyone to enjoy underwater photography for its fully automatic exposure control function. However not all situations are resulted in perfect images by the S-TTL Auto. For example, in backlit condition, if a camera thinks ambient light is bright enough to cause faint flash, subject fish is exposed dark in an image. Also some of recent compact digital cameras have a characteristic to suppress built-in flash effect to take full advantage of ambient light. This is useful for land photography to get natural result as it avoids shining or dark shadow but not for underwater photography. Since water absorbs red end of spectrum first, the deeper we go, the bluer we get as result images. If we use an S-TTL Auto strobe for those particular cameras that carry ambient light oriented exposure control characteristic, the S-TTL Auto strobe which is controlled by the built-in flash, only makes faint flash resulting in bluish image. We can increase strobe light by either using the EV. Control Switch dialing to positive side or flash compensation of the camera. However they may not be good enough. Using Manual mode is not difficult as a digital camera provides post view on its LCD display right after shooting where we can adjust the flash power setting according to what we see on the display. But this requires to adjust setting whenever shooting distance changes and could be critical when shooting shy subject like a goby. They are not good patient if we have to change dial setting of the strobe as we move closer to them.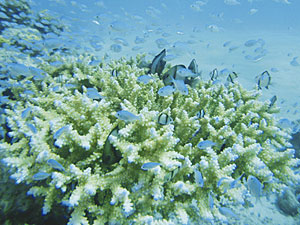 S-TTL Auto. The built-in flash made faint flash based on the camera's calculation resulting in bluish image.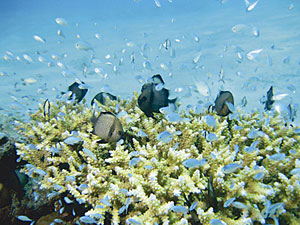 External Auto. The strobe delivered sufficient light on corals and fishes.
Semi-automatic External Auto where strobe determines flash amount
The Z-240 and D-2000 is equipped with an External Auto mode which determines flash amount based on reflecting flash light from a subject metered by the onboard sensor. This flash mode is independent of combined camera and not affected by any individual feature of the camera. Once necessary setting has been made, there is no need to change it even shooting distance alters, so more convenient comparing to Manual mode.
The External Auto mode is kind of semi-automatic as this mode requires setting aperture value and ISO manually to accommodate with those setting on the camera. Basically all we need is to set the Main Mode Switch to AUTO and match the EV. Control Switch position with camera's aperture value. There are numbers around the EV. Control Switch like, 2.8, 4 or 5.6 which stands for f number based on ISO 100, so if camera's aperture setting is 5.6, set the EV. Control Switch to 5.6. When using ISO 200 on your camera, turn the switch counterclockwise two notches further (as indicated by an arrow of Darken) to 4, or four notches further to 2.8 for ISO setting 400.
While we can shoot with fixed aperture setting if the camera features such shooting modes like aperture priority mode or manual mode, a full automatic camera which only offers program auto mode cannot fix the aperture value. A majority of such full automatic cameras do not display aperture value on their LCD screen and make it hard to match the EV. Control Switch with camera's aperture setting. On the other hand many of those full automatic cameras look like switching over two aperture settings where aperture value will not frequently shift unless changing zoom position, use of macro mode or camera orientation. So it is useful to check appropriate EV. Control Switch setting based on test shots without trying to set same aperture setting as on the camera.
First, set ISO at 100 or 200 and focus on a subject. Next take several shots of still subject nearby like a rock or coral to find out the best EV. Control Switch position for correct exposure. Taking actual shot of the intended subject with this setting will give you acceptable result. Lastly you can fine-tune flash output with the EV. Control Switch. No need to change strobe setting even shooting distance changes.
In the same way, you can find out standard EV Control Switch positions for typical shooting scenes including macro and wide subjects. Having those setting in your mind, the External Auto mode will back up the S-TTL Auto in case it does not deliver intended result.

Onboard sensor which meters reflecting light from a subject

Set Main Mode Switch to External Auto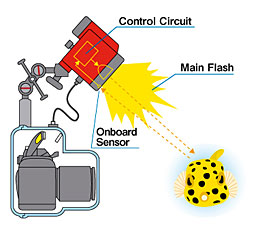 The onboard sensor meters strobe light in real time and ceases firing when appropriate exposure has been obtained.