UWL-100 Achromat Wide Conversion Lens Type1/Type2
[Discontinued]
Maximum angle of view 100.5°underwater for ultra wide shot and 158.35°on land for fish-eye shot.

In addition to ultra wide angle of view, optical design of the UWL-100 allows closer focusing distance which benefits you when shooting wide macro image.

Optional "Dome Lens Unit II for UWL-100" further widen maximum angle of view to131.6°underwater for semi-fisheye imaging.

Optical construction is 5 elements in 4 groups with coated optical glasses including achromat lens (achromatic doublet) which effectively suppress optical aberrations and elicits master lens performance.

Highly versatile screw type "M67 Mount" compatible.

Two options (Type1/Type2) for various camera type to bring out optimum performance of master lens.
*Type conversion is available as optional feature.

Directly screwed on a housing which has M67 lens ring or mounted through dedicated "M67 Mount Base" for a housing which is not equipped with a M67 lens ring.
Why we stick on underwater attachment lens?
When we bring a conversion lens, especially wide conversion lens for land use, underwater, we have to use a dome port to waterproof the lens. However a dome port underwater works as a concave lens and affects on perfect optical system causing apparent change on shooting conditions / image quality like longer minimum focusing distance, blur on periphery part of an image. Needless to say, it is too much to hope aberration correction. If the dome lens is manufactured without profile irregularity management like blow molding (glass / plastic molding technique like filling a balloon), it is as like putting ripply concave lens in front of optical system and rather difficult to get high quality image.
In contrast, underwater conversion lens can be constructed with all optically designed elements including front side lens. In addition to optical design, high quality material and molding technique to manufacture underwater lens can eliminate all drawbacks of the combination of a land lens and a dome port.
Does it make sense why we stick on underwater attachment lens?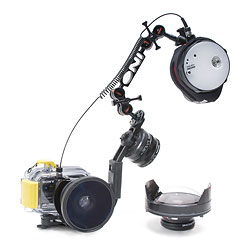 [When using a wide conversion lens]

*When shooting without an external strobe, it is recommended to use ambient light only instead firing the built-in flash since the built-in flash light may be blocked depending on a housing design, shooting distance or angle of view etc.


*Set the camera to wide end. If you observe vignetting at wide end, zoom to telephoto side minimum necessary or crop the image after taking image. The lens is designed to get optimum performance at above setting.