Dome Lens Unit II for UWL-S100 ZM80
[Discontinued]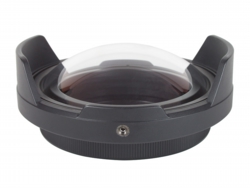 Dedicated super dome option for UWL-S100 ZM80 wide conversion lens to increase underwater view angle by simply attached it on the compatible wide conversion lens to provide "more wide angle image" and "more close-up image" comparing to sole use of the UWL-S100 ZM80 underwater.
*The "Dome Lens Unit" patented in the U.S.

Maximum angle of view underwater is [149.8°] with "UWL-S100 ZM80" wide conversion lens .

Unique optical design allows to shorten minimum focal distance with super wide view angle thus effective for ultra wide macro imaging and capturing clear image even in poor visibility condition.

The Dome Lens Unit II is specially designed for the UWL-S100 ZM80 wide conversion lens making it compact and lightweight.

Its optical glass has anti-reflection multi-coating and antifouling coating on its inner surface to suppress flare and ghost and enhance durability while outer surface has hard coating to prevent accidental scratches.

The packaged protector shades unnecessary light to get clear image in addition to prevent accidental damage on the lens surface.
[Usage of the Dome Lens Unit II for UWL-S100 ZM80]

*This product cannot be used by itself and must be used with compatible INON wide conversion lens.

*As same as using UWL-S100 ZM80 itself, set to zoom position 80mm (35mm film equivalent) until no vignetting is observed. Do not zoom beyond necessity as it will sacrifice view angle not to appreciate optimal performance of the lens.

*Generally, set Macro Mode to [ON]. However, for some cameras, depending on the particular focus range and aperture capabilities, some subjects at farther distances may not be in focus. In such cases, set Macro Mode to [OFF].