UCL-165 XD Close-up Lens
JAN/EAN code : 4570018120275

*Optional "XD Mount" is required.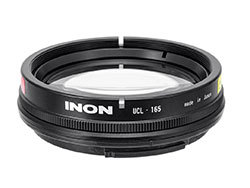 "XD Mount" for one-touch lens attachment and removal
The newly developed "XD Mount" enables one-touch lens attachment and removal. The "XD Mount" on a lens provides high durability, thin design without compromising lens optical performance and speedy lens attachment/removal in combination with XD Mount on housing side which has reasonable price and anti-slip lock function.


A high magnification close-up lens providing 165mm focal length (+6 diopter) where 165mm shooting distance from lens surface when camera's focus position is set to infinity. Using minimum focusing distance will shorten minimum focus distance allowing you to get closer to a subject enabling high magnification close-up photography.

Dual use underwater/land and usable with all zoom range. Even at same shooting distance, it is easy to capture a subject at desired size by adjusting zoom setting.
CANON RF100mm F2.8L MACRO IS USM
The lens construction is 2 elements in 2 groups with high quality optical glass with inner coating to suppress optical aberrations more effectively.

INON unique bayonet mount "XD Mount"
Sample images at telephoto end
Sample images at wide end
[When using a close-up lens]

*Depending on housing, shooting distance, angle of view etc., the lens may block the built-in flash light from illuminating the entire image. In such cases it is recommended to shoot with an external strobe or flashlight.

*A close-up lens provides maximum magnification at zoom telephoto end.

*Generally, a close-up lens shortens the camera's close focusing distance. With this product, you can place your camera closer to a subject, achieving a larger image. On the other hand, depending on zoom or aperture setting, it may be more difficult to obtain complete depth of field on a distant subject.

*Stacking multiple lenses may cause vignetting at zoom wide end. As you stack more lens, focusing distance gets short and depth of field gets shallow as well.